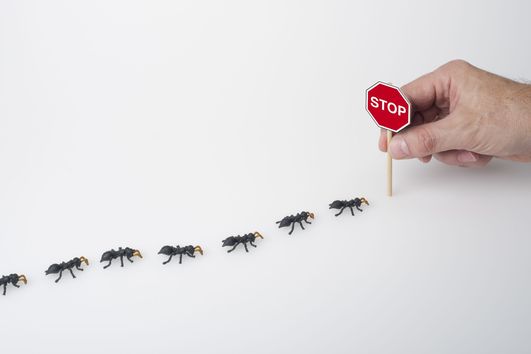 Fact 5

The American cockroach has shown a marked attraction to alcoholic beverages, especially beer.

Fact 4

Ants don't sleep.

Fact 3

When the only queen ant dies, so does the entire colony, because no new workers are born.

Fact 2

In perfect conditions, a nest of mice can produce 2,500 heirs in a six-month period.

Fact 1

Cockroaches can run up to three miles in an hour.
WHAT IS CHAMPION PEST AND LAWN?
---
Champion Pest and Lawn began with the goal of becoming Oklahoma's #1 pest and lawn management solution provider. With a combined background in founding and operating several successful service-based businesses as well as years in pest control services we believe we have a unique insight into what it takes to implement creative solutions and create a great customer experience.
---
Local Pest Control Services for Residential and Commercial Properties
---
RESIDENTIAL SERVICES
FOR YOUR HOME
---
Pest management is a year round concern. Household pests pose a threat to the structure of your home and to the health and safety of your family. A pest intrusion of any kind can introduce hazards and stress to your family and cause significant damage to your home. ​
---
WHY CHOOSE US
HIGH QUALITY
CUSTOMER SERVICE
We started using Champion Pest and Lawn for the past couple of months and I have to say that I am impressed! I have not had an ant or spider issue since! If you want a reliable pest control service then I highly recommend them.

My service was performed by Sam. He did a great job! He arrived early. He was very diligent. He checked inside the house, the attic, the crawl space under the house, and around the outside of the house. He also checked inside and outside of my shed. He took care of a wasp nest in the back yard and set up traps outside. I would gladly recommend him to anyone needing his services. I plan to use him and Champion Pest and Lawn in the future. I was very pleased with the service I received today.

Excellent customer service! They fit me in quickly, were very prompt, friendly and did a very thorough job. I will definitely call them if I have need of this service again!

The individuals who run Champion are responsive, reliable , do good work and if there is a problem they make things right. We had a rodent problem that they solved and we plan to use them again to take care of a spider problem in the garage. This is the kind of company with which we like to do business. They are also local which is a plus.

Great experience since I started using this company 6 months ago. They successfully got rid of my spider issues which my previous service company wasn't able to do. The knowledgeable & professional staff offers great customer service. I highly recommend Champion Pest and Lawn!

Had an excellent experience with Champion Pest and Lawn. The response to my time crunch was quick and efficient. The technician was punctual, friendly and very thorough. This company is professional and offer great customer service. I highly recommend.
---

SERVING OKC AND SURROUNDING AREAS
COMPLETE PEST SERVICES

UNMATCHED CUSTOMER CARE
You Have a Pest Control or Lawn Problem

---

WE HAVE YOUR SOLUTION!
---
Schedule Today with Champion Pest and Lawn or Call
405.759.8440

---